A couple of general guidelines in cooking grassfed beef: cook it slowly at low temperatures, and try it a stage or two rarer than a comparable grainfed cut. Grassfed beef, though far lower in fat than grainfed, can be meltingly tender, if treated with care.
Three excellent investments for cooking grassfed beef: a good meat thermometer (if you can, try the pricy, but precise Thermapen,) a Jaccard tenderizer, and Deborah Krasner's excellent cookbook, Good Meat
(2010.) Krasner's book not only includes inventive and delicious recipes for many of the less familiar cuts you're likely to get with a quarter or side, but also provides an education in cow anatomy and the various ways in which it can be cut.
Another excellent cookbook that a customer recently alerted me to:
Lynne Curry's
Pure Beef
. Like Krasner's book, it not only provides excellent and distinctive recipes, but also much information about grassfed beef.
Please note: The recipes below are suggestions only. I am confident that these techniques applied to our flash-frozen dry aged grassfed beef will produce
excellent results, but you should of course exercise your own best judgment.
Indian Spiced Ground Beef (Kheema)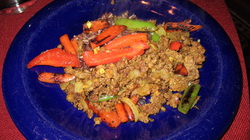 There are many wonderful ways to make kheema. Here is an easy recipe that I like:
1 lb ground beef
1 large onion, chopped
2 T vegetable oil
1 t cumin seed (or ground)
1/2 t cardamom seeds (or ground)
1 t coriander seed (or ground)
1 cinnamon stick
1/2 t turmeric
1 t chile powder
1 T minced ginger
3 large cloves garlic, minced
Salt to taste
1 red pepper, cut into strips
1 c sugar snap peas, strings removed
2 large carrots, peeled and cut into strips
Brown basmati rice or chapatis

If using whole seeds, toast the cinnamon with the cumin, cardamom and coriander seeds until fragrant, shaking pan frequently. Remove from pan to grind in mortar and pestle or in a small clean coffee grinder. If using ground spices, add to oil with the onion.

Saute the onion in 1 T oil over medium heat until lightly brown, 8-10 minutes. Add ground beef to the pan and continue to cook, stirring frequently, until the meat is no longer pink. Add the garlic and ginger, and cook for 3 minutes longer, stirring frequently. Add the rest of the spices and cook 3 minutes longer, stirring frequently. Add salt to taste. Remove to dish and keep warm.

Add 1 T oil to pan, add carrots. Cook over medium heat until they are almost tender and beginning to brown, about 10 minutes. Add peppers and peas, cook another 6-8 minutes, until they are beginning to brown.

Serve meat and vegetables with rice or with chapatis.


---
Stirfry or Fajita Meat


1 lb stirfry or fajita meat
1-2 T olive oil
3-4 cloves garlic
1/2 T coarse salt
1-2 T peanut oil

Trim larger pieces of fat and silverskin from the thawed meat, and cut any obviously larger pieces to size. (I trimmed fairly aggressively, and got 2-3 T of scraps from a pound of meat.) Marinate the meat in 1-2 T olive oil, 3-4 cloves chopped garlic, and 1/2 t coarse salt for 1-2 hours. (Longer is fine, and infuses the meat with a little more garlic flavor, but it doesn't seem to increase tenderness.) Heat a pan over low-medium heat (4 on my stove,) film the bottom of the pan with peanut oil, and after it's heated, add some of the meat. You will probably need to do a pound in 2 or 3 batches, depending on the size of your pan, to avoid crowding it. Cook for only 1-1/2 minutes on one side, then begin flipping the pieces with tongs, one by one, and cook for another 1-1/2 minutes. Some of the pieces should still be a little pink, and might even have a little blood on the surface. Remove the pieces to a plate and cover for 5-10 minutes to finish cooking.

You can experiment with the marinade as you like. You might substitute soy sauce and sesame oil for the salt and olive oil, perhaps adding fresh or dried ginger; add chili powder; add your favorite spice rub; or add a little vinegar or lemon or lime juice.


Coconut Beef Curry

Another wonderful and easy Indian inspired recipe!

2 lb stew meat (fajita meat or stir fry meat work here, too)
2 T olive, vegetable or coconut oil
1 onion
4 large cloves garlic
1 can coconut milk
1 1/2 T fresh garam masala
1/2 t turmeric
salt and pepper to taste

Thaw and pat dry the meat. Chop onion, saute in oil over medium heat until lightly browned, about 5 minutes. Add garam masala, turmeric and garlic, stir for 1 minute. Add coconut milk and stir well. Add meat, salt and pepper. Reduce heat to very low, perhaps 1.2 on an electric range. Simmer 2 hours, stirring occasionally, until meat is tender. Add a little water if the meat sticks to the pan or if the sauce seems too thick.

Serve over brown basmati rice.


---
Homemade Beef Jerky

Trim fajita meat or stir fry meat into fairly uniform size pieces, and marinate overnight in marinade of your choice. One possibility: 1 T soy sauce, 1 T worcestershire sauce, 2 T vegetable or sesame oil, 1 T water, 1 T brown sugar, 1-1/2 t chile powder, 1/2 t crushed red pepper flakes (optional, but good.)
Place a rack on a large cookie sheet, lay meat on rack without touching, and place in 200 degree oven for 1/2 hour. Turn down heat to 170, and leave oven door ajar, continue cooking for 4-1/2 hours, when you should begin checking for doneness. Your objective is meat that's dried, but not to the point of being leathery.
Keeps well in tightly closed container in refrigerator for one week (or might, if you have enough.)

Roast Beef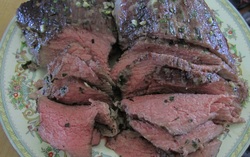 Easy, delicious, and beautiful!

3-4 lb roast (sirloin tip or round work well in this recipe)
2-3 T olive oil
4 cloves garlic, minced
4 T fresh herbs (parsley, rosemary, basil, oregano, chives, or mixture)
coarse salt and freshly ground pepper

Thaw and pat dry roast. Jaccard the roast, or pierce it all over with a sharp knife, letting the knife tip penetrate to a depth of about 1/2 inch. Mix all other ingredients in a bowl, and rub all surfaces of the roast with this mixture. Let stand at room temperature for at least 1/2 hour (if you have the time, marinate refrigerated for 1-3 days, but bring up to room temperature before roasting.) Preheat oven to 250. Roast for 30 minutes, then lower the oven temperature to 170, and roast for another 1-1/2 hours, or until internal temperature reaches 125. Tent with foil for 10 minutes, then slice thinly across the grain.


---
Renee's Arm Roast

(Inspired by Lynn Alley, The Gourmet Slow Cooker)

1 cup flour
2 teaspoons salt
Freshly ground black pepper
2-3 pounds arm roast or chuck roast, trimmed of fat and cut into 1-inch slices (If your roast has a bone, throw it in for more beefy flavor, and give it to the dog when you're done.)
2 tablespoons vegetable oil
1 yellow onion, halved and sliced
2-3 cups water or broth
3 carrots, peeled and cut into 1-inch chunks

Combine the flour, salt, and several pinches of pepper in a resealable plastic bag. Add the meat to the bag, several pieces at a time and shake to coat completely. Heat a large saute pan over medium-high heat and add the oil. Add the meat, in batches if necessary, turning frequently, for 7 to 10 minutes, until browned on both sides. Using tongs, transfer the meat to the slow cooker. Add the onion to the remaining flour in the bag and shake to coat. Set the saute pan over medium-high heat and add the onions. Saute, stirring frequently, for about 10 minutes, until onions and flour are lightly browned. Gradually add the water or broth, stirring to scrape up the browned bits from the bottom of the pan. Cook, stirring frequently, for 10 to 15 minutes, until the sauce thickens enough to lightly coat the back of a spoon. Pour over the meat in the slow cooker. Sprinkle the carrots over the top. Cover and cook on low for 6 to 8 hours until the meat is very tender. Divide the meat and sauce among dinner plates and serve immediately.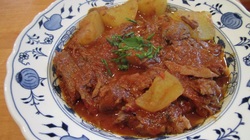 Slow Cooker Pot Roast

2 T olive oil
1 large onion, chopped
1 large stalk celery, chopped
1 large carrot, chopped 5 large potatoes, cut into sixths
2 T flour
3-4 lb arm roast or chuck roast
Salt, pepper
16 oz tomatoes, fresh or canned
6 oz tomato paste
2 T Worcestershire sauce
3/4 c water or red wine or broth
1 bay leaf
3 or 4 T chopped herbs,(rosemary, parsley, chives, basil)

Important Note: Although browning the meat before putting it in the slow cooker will yield the best results, it is also very good even if you don't have time for this step. Truth be told, there have been mornings when I have set this up with a roast that is not even fully thawed, much less browned. By dinnertime, the kitchen is fragrant, and a tasty pot roast is ready to eat.

Saute the onions, celery and carrot in the oil over medium heat in a dutch oven. Dredge the roast in the flour, salt and pepper, push the vegetables aside and brown the meat on all sides, 3-4 minutes a side. If the vegetables become a little brown, don't worry. Put the contents of the dutch oven into a slow cooker. Add water or wine or broth to the dutch oven, and scrape off all the brown bits on the pan, add to the slow cooker. Add the bay leaf, potatoes, tomatoes, tomato paste and Worcestershire sauce, and set the slow cooker to low. Cook for at least 6 hours (if the roast is not fully thawed, cook for at least 8.) This dish is forgiving; I have cooked it for as long as 12 hours and found the results delicious. Add herbs ½ hour or so before serving. Adjust seasonings to taste. Remove meat from slow cooker and slice, return to broth and serve.



---
Slow Cooker Boeuf Bourguignon

6 oz bacon (try beef bacon!)
3 lb stew meat, well trimmed
Olive oil for pan
1 chopped carrot
1 chopped onion
5 potatoes, peeled and cut into sixths
Salt, pepper
2 T flour
3 c liquid (use any mixture of red wine, beef stock, and water)
1 T tomato paste
1T fresh or ½ t dried thyme
2 cloves garlic
2 T butter, optional, but very good
2 T flour, optional

Important Note: Don't skip steps in this recipe. All are important in producing a tender beef stew with a rich and complex flavor.

Preheat oven to 450. Thaw and thoroughly pat stew meat dry with paper towels. Cut bacon into ¼" strips, simmer for 10 minutes in 1-1/2 qts water. Remove bacon from water with slotted spoon, pat dry. Film a pan with olive oil, and sauté the bacon for about 3 minutes, until lightly browned. Set bacon aside. Saute beef in batches, without crowding cubes, adding oil as needed. Brown on all sides. Place in dutch oven. Saute the carrots, onion and potatoes until onions are translucent, add to meat. Sprinkle flour, salt and pepper onto the beef, stir to coat. Place in oven, uncovered, for 5 minutes, stir, and bake for another 5 minutes. Transfer to slow cooker, add liquid, tomato paste, thyme and garlic. Cook on low for 4-6 hours. If desired, thicken the liquid by melting 2 T butter in a saucepan over medium heat, add 2 T flour, stir for 1-2 minutes, add liquid from the beef, and simmer, stirring constantly, until the mixture reaches the desired texture.


---
Rolled Flank Steak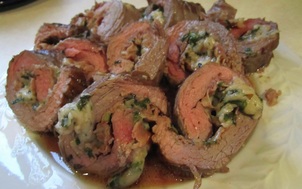 18 oz flank steak, pounded to 3/4" thickness
2 cloves garlic, chopped
2 T good olive oil, divided
Salt, pepper
2 oz prosciutto
3 oz grated Grana Padano, or other good parmesan
1/3 cup chopped mixed herbs, such as chives, basil, oregano, rosemary, parsley (may also use some lettuce or spinach)
Kitchen twine


Rub the flank steak with garlic, 1 T olive oil, salt and pepper and marinate in the refrigerator for up to 12 hours.

Preheat oven to 350 degrees. Lay the steak on a cutting board, and cover it with a single layer of prosciutto. Mix 1 T olive oil with grated cheese and chopped herbs, spread mixture over the prosciutto. Roll the steak with filling into a long cylinder, secure in several places with kitchen twine. Place the cylinder in a foil-lined baking pan, bake for 1 hour, or until the temperature registers 140. Remove from oven and cover with foil, letting it sit for 5-10 minutes. Cut into pinwheel slices and serve.


---
Hamburgers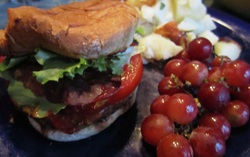 Our 1/3 lb hamburger patties are wonderful grilled on their own, but for a truly decadent treat, try these hamburgers:

1 lb ground beef
1-1/2 T Worcestershire sauce
1 egg
2T butter
1 T chopped herbs



Combine all ingredients gently, shaping into 3 or 4 patties with as little manipulation as possible.
Grill to your desired level of doneness, and serve.
---